Macbook Pro MD313 Late 2011
CPU:
2.4GHz dual-core Intel Core i5 với 3MB shared L3 cache.
CD-DVD:
8x slot-loading SuperDrive (DVD±R DL/DVD±RW/CD-RW)
LCD - VGA:
13inch, Intel HD Graphics 3000
KHÁC:
dùng Wireless web: 7giờ, thời gian chờ: 30 ngày
MacBook Pro new 2011
Strength. Lightness.Beauty. Seamlessly integrated
MacBook Pro is machined from a single piece of aluminum, an engineering breakthrough that replaced many parts with just one. It's called the unibody. And the first time you pick up a MacBook Pro you'll notice the difference it makes. The entire enclosure is thinner and lighter than other notebooks. It looks polished and refined. And it feels strong and durable — perfect for life inside (and outside) your briefcase or backpack. 



A display full of bright ideas.
Everything Apple designers and engineers do, they do for a reason. They chose LED backlight technology for the MacBook Pro because it makes the display instantly bright and allows it to be incredibly thin. They used edge-to-edge glass not just because it looks beautiful, but because it lends structure to the display. And at the top of the screen they hid the new built-in FaceTime HD camera. So you see your friends and family in big, beautiful widescreen — and as little of the camera as possible.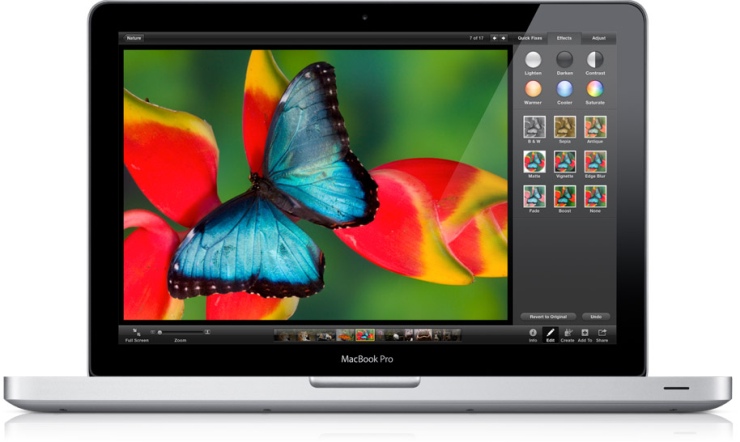 Multi-Touch trackpad. It just feels right.
The Multi-Touch trackpad has no button because it is the button. That means there's more room to track and more room to click — left, right, center, and everywhere in between. Apple designers and engineers spent countless hours considering things like sensitivity (how much pressure triggers a click?), audio feedback (what does the click sound like?), and friction over the smooth glass surface (what does it feel like?). The result is a trackpad that just makes sense to you — and your fingers. 


Easy access to connections and ports.
The connections and ports on MacBook Pro — MagSafe power, Gigabit Ethernet, Thunderbolt, USB, SDXC, and audio in/out — are all smartly integrated on the same side of the notebook. So your cables stay neatly organized, and connecting and disconnecting your devices is easy and convenient. 



Designed to make an impact. Just not on the environment.
Complete control over how the MacBook Pro is designed, how it's manufactured, and how it's packaged gives Apple an environmental edge. LED backlight technology preserves energy. Glass and aluminum are highly recyclable. MacBook Pro is free of most harmful toxins. And the 17-inch model ships in packaging that's 34 percent smaller than the original, while the packaging for the 13-inch model is 41 percent smaller. That means fewer trees used for boxes and fewer planes, trains, and trucks used for transport.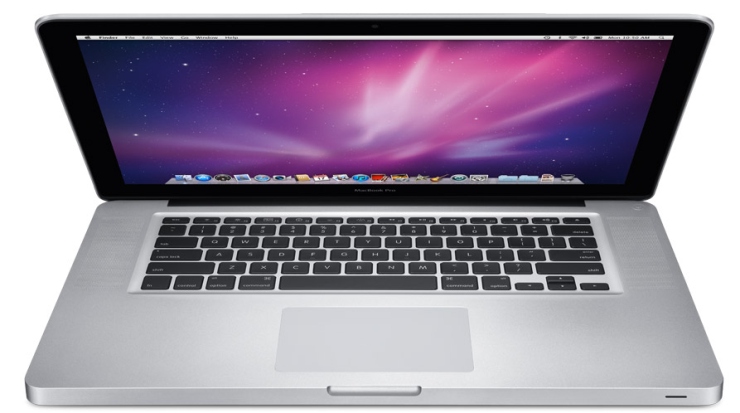 Up to 2x faster processors and 3x faster graphics.

Next-generation quad-core and dual-core Intel processors.

The 13-inch MacBook Pro now features a 2.3GHz Intel Core i5 processor or the fastest dual-core processor available — the 2.7GHz Intel Core i7. With Turbo Boost speeds up to 3.4GHz, these processors allow the 13-inch MacBook Pro to perform up to twice as fast as the previous generation.1 But we couldn't leave fast enough alone. The new 15- and 17-inch models bring quad-core power to almost everything you do. The available 2.3GHz quad-core Intel Core i7 processor — with Turbo Boost speeds up to 3.4GHz and up to 8MB of shared L3 cache — enables these MacBook Pro models to run applications up to twice as fast as their top-of-the-line predecessors. 
 

The graphics performance you need, when you need it.

The integrated Intel HD Graphics 3000 processor — now included across the MacBook Pro lineup — handles the things you do every day. It encodes video quickly, making HD video calls with FaceTime possible. And it decodes efficiently, so you get long playback time for DVDs and iTunes movies. 

For graphics-intensive applications, the 15- and 17-inch MacBook Pro models automatically switch to new high-performance AMD Radeon graphics processors. With up to 3x the performance of the previous models,3 they let you see more frames per second in 3D games, or work on HD video projects with more speed and responsiveness than before.
Introducing Thunderbolt.
The fastest, most versatile I/O ever in a notebook.
Imagine accessing multiple streams of uncompressed HD video — from your notebook — at speeds that let you edit an HD feature film in real time. That's how Thunderbolt technology will connect the next generation of high-performance peripherals to the next generation of computers — starting with MacBook Pro. Ultrafast and ultraflexible, the Thunderbolt pipeline is more than 12 times faster than FireWire 800 and up to 20 times faster than USB 2.0, and it offers unprecedented expansion capabilities. It changes what you can do on a notebook. 

The Thunderbolt port will give you plug-and-play performance with a whole new world of Thunderbolt peripherals, as well as with the Apple LED Cinema Display and other Mini DisplayPort peripherals. You can daisy-chain as many as six devices, including your display. And with support for video and eight-channel audio, it's easy to connect HDMI-compatible devices — like your TV and home stereo — using the HDMI adapter you already have. Current VGA, DVI, and DisplayPort adapters are also supported.